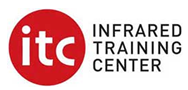 ITC LEVEL 1 INFRARED THERMOGRAPHY TRAINING
(INTERNATIONAL CERTIFICATE)
19-23 Agustus 2019
The level I Infrared Thermography Training Course is geared to ther new infrared camera user and focuses on its use for a variety of condition monitoring/predictive maintenance applications. Attendees completing all training course requirements will receive a Level I Infrared Thermography Certification.
WHY YOU SHOULD ATTEND THIS COURSE?
This course is designed for beginners in thermography with some experience of infrared camera handling and limited infrared knowledge who want to take their first step to becoming a professional thermographer and wish to qualify as a Level 1 certified thermographer.
COURSE BENEFITS
Introduction to thermal imaging and measurement systems for predictive maintenance applications. No experience in thermography is necessary!

Collect quality data, accurate temperature readings and account for measurement effects such as and emissivity using infrared cameras;

Interpret thermograms and make informed decisions using heat transfer concepts to analyze thermal images and see the latest in infrared inspection report generations and database software;

Avoid costly mistake – learn to distinguish between hot spots and refrelctions, direct vs indirect readings and qualitative vs quantitative thermography.
COURSE OUTLINE
Introduction;

Infrared Thermography Applications Overview;

Basic Camera Setup and Operation;

Thermal Science Fundamentals;

Heat Transfer;

Fundamentals of Infrared Science;

TThermal Measurement;

Electrical Applications;

Thermography Safety;

Mechanical Applications;

Building Applications;

Review;

Final Exam.
INSTRUCTURE
Infrared course are developed and taught b ITC's ASNT Level 3 and EPRI Level 3 Instructure.
The Level 1 infrared training course are taught by certified instructors with extensive experience in wide variety of infrared thermography and thermal imaging applications.
1

COURSE

ITC Level 1 Infrared Thermography Training

2

COURSE FEE

Price included training material, lunch and2(two)

time coffee break;

Price excluded transportation and accommodation of the participants.

3

SCHEDULE

COURSESCHEDULE

5(five)days

Senin – Jumat, 19-23 Agustus 2019

9am– 4pm

4

COURSE VENUE

5

COURSEREGISTRATION

The course are available for10(ten)seats only

This course is using English
If you interest to join this training, please kindly register to:
PT.PUTRANATAADIMANDIRI
Telp:021–29022588;Fax:021–29252153
Email: sales@putranata.com
Attention:Ms.AriniArlies